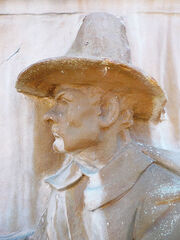 John Underhill, the son of John Edward Underhill, was born in Baginton, Warwickshire, England, on October 7, 1597. He was the son of John Edward Underhill (1574-1608) and Honora Pawley (1575-1658). John Underhill fled with his family to the fortified of Bergen op Zoom following the failed plot of Robert Devereux to overthrow Queen Elizabeth I. From there his father John Underhill served as a Sergeant in the company of Captain Roger Orme. Following the death of his father in October 1608, John Underhill lived with his mother and siblings among a group of Puritan exiles. He, himself, received military training as a cadet in the service of Philip William, the Prince of Orange. Underhill married Helena de Hooch on December 12, 1628, in the Kloosterkerk, The Hague, Holland.
John Underhill He was hired in 1630 to accompany a group of Puritans to the Massachusetts Bay Colony. Upon arriving in 1630 Underhill went into active service on behalf of the Massachusetts Bay Colony. He rose in rank and position in May 1634 when he was appointed to the General Court and was elected as a selectman for Boston in July. Around this same time he started construction of a five sided fort, the first fortification on Castle Island at Boston. He went to Salem in 1636 to arrest Roger Williams, though Williams had already fled to Rhode Island. That same year Underhill led an expedition to Block Island.
In 1637, Underhill led a twenty man militia as it marched out for the Pequot War. They were joined by two-hundred Mohegan and Narragansett allies, and the ninety man Connecticut militia under Captain John Mason. On the night of May 26, 1637, the band of English and Native American attackers arrived at the Pequot village near the Mystic River. The village was surrounded by a palisade and had only two entrances and exits. In the face of strong resistance from the Pequot, an order was given to block off the exits and to set the village on fire. This order was carried out. Those who tried to climb over the palisade were shot and anyone who got over was killed by the Mohegan waiting outside. Underhill estimated by his own account that 1,000 were lost in the fighting. Most historians place the number somewhere between 400 and 700.[i] This incident later became known as the Mystic Massacre. The Pequots disappeared as a tribe following this event.
Despite his service in defense of the Massachusetts Bay Colony, this was not enough to keep Captain John Underhill in good graces with the leaders of the colony including Governor John Winthrop. Captain Underhill was also the first person to sign a petition asking that Anne Hutchinson be allowed to stay in the Massachusetts Bay Colony, when she was threatened with exile. This event along with others would prove cause enough to force him from Boston.
A letter written by Captain John Underhill to Hanserd Knoylls on April 28, 1638, revealed Underhill's true feelings about the persecution that he faced.[ii] Underhill recounted how we was called to account for the "damning errours of Anne Hutchinson." Underhill had hoped to be "sent away in peace," however Governor Winthrop required that he "must abide the examining of ye church." In the trial that followed, he was charged with adultery with Miriam Wilbore, the wife of Samuel Wilbore. The circumstances of the accusations are as follows. Miriam had attended a lecture with a pair of open worked gloves slit at the thumbs and finger so as to take snuff. During his interrogation, Underhill was asked whether he looked upon mistress Wilbore. Underhill replied "I did not look at the woman lustfully." This admission, however, was taken as a confession and significant enough to warrant his excommunication.
William Blaxton confided with Underhill privately, "I came from England because I did not like the lords bishops; but I have yet to praye to be delivered from the lords bretherenne." This trading off of persecution under religious authorities in England, for the same persecution under civil authorities in the colonies illustrated a common dilemma many settlers of the time faced. Underhill tellingly signed his letter to Knoylls, "Youre felloe traveller in this vale of tears."[iii]
While in exile both Captain John Underhill and Anne Hutchinson would be exposed to the harsh realities of settling in areas less well protected than the Massachusetts Bay Colony. Anne Hutchinson went to the settlement of Pocasset (today Portsmouth) on Aquidneck Island. There she suffered a miscarriage and continued to be persecuted by church leaders from Boston. When William Hutchinson died in 1642, the widow Anne decided to leave Portsmouth along with her family. They went to Pelham Bay that was then part of New Netherland. There in 1643 she and her whole family with the exception of one daughter were killed. All of their possessions were placed inside their house, including animals, and then the house was set afire. This was disturbingly similar to the tactics that Captain John Underhill and others had used in the Pequot War.
Captain John Underhill upon his exile accompanied the minister John Wheelright whom he supported to Dover, New Hampshire. Underhill served as governor of Dover Colony for a brief time before authorities from Boston caught up with him and forced Underhill from office.
When his troubles in the New World were seemingly at their height, Underhill went back to the England in 1641. Around this same time the 100 year lease of the Underhill family to the estate at Ettington Manor had come to an end and a protracted battle was being fought over its future. At that time Sir Robert Shirley had control of the property. Sir Robert was the son of Sir Henry Shirley and Lady Dorothy Devereux who had both died less than a decade prior. Lady Dorothy, it may be recalled, was a daughter of Robert Devereux and Frances Walsingham, and a grand-daughter of Walter Deverux and Lettice Knoylls. Lettice Knoylls of course was the woman who married Robert Dudley who at one time was a suitor to Queen Elizabeth I. Through Dudley were connections to several generations of the Underhill family including Sir Hugh Underhill who served Queen Elizabeth I at Greenwich, and Thomas Underhill who served Robert Dudley at Kenilworth Castle.
Sir Robert Shirley came to possess the manor at Ettington after the lease terminated with the Underhill family in 1641. If Captain John Underhill had hoped to return to England and regain a lease to Ettington, he apparently was unsuccessful. Changing political circumstances had made the historical loyalty of the Underhill family to the crown unimportant. The Underhill family continued to possess the estate until Michaelmas, 1641.[iv] After the Shirley family regained control of the property, Sir Charles Shirley[v] carried out extensive repairs in which the old manor house building was largely demolished, and rebuilt into a smaller house from the salvaged materials.[vi] One source recounted how "several remains of anciently worked timber and stones, set extant about the present building". [vii] The role of Ettington as an important cultural center would continue in the years to follow, albeit without the Underhill's. William Croft, a celebrated composer of English cathedral music was born at Ettington in 1678 and christened there on 30th of December that same year. Sir Robert Shirley did not fare so well. He died in the Tower, November 28, 1656, "not without suspicion of poison."[viii]
John Underhill returned to America and played an important role in settling Stamford, and defending New Amsterdam (later New York City) in the Indian Wars. For his service he was awarded a plot of land near Trinity Church. He would continue to serve the Dutch, though later switch sides in support of the English when he felt threatened by a Dutch-Indian alliance. Eventually he was forced from Dutch territory and lived a number of places on Long Island, before finally settling on 150 acres in Oyster Bay that was given to him by the Matinecock Indians. There is a far richer story to be told about Captain John Underhill and his contributions to the making of America. That will have to wait for another day. We do mention Underhill because in his life he was a living embodiment of some of the heroic figures and military strongmen portrayed in the work of Shakespeare, though, alternately, he was shown to have a poetic heart as expressed in some of the words he passed on.
Following his death in 1672, Captain John Underhill, founder of the Underhill family in North America, was buried on his own land upon a hill in the Underhill Burying Ground. The burying ground is on a portion of the 150 acres given to Captain John Underhill by the Matinecock. He is surrounded by over 300 family members with Underhill descent. The Underhill Society of America paid $6,000 to erect a huge obelisk in Underhill's memory on May 18, 1907. Captain Underhill is buried in the foundation of the structure. A dedication occurred on July 11, 1908. President Theodore Roosevelt was present and provided an address to the 500 or so people in attendance. He gave an address on "A Good Soldier and a Good Citizen." A portion of that speech follows:
I have known any number of Underhills in every walk of life, men who made their living in many different ways - men belonging to the professions, men who followed the sea, men who tilled the soil, men of means, men who made each day's living by that days work with their hands - and all of them decent citizens. I won't say that there are not some Underhills who are not decent, but fortunately I have not met them.
---
[i] "Lilith" Location Notes: Killingworth, Long Island, http://amanoutoftime.livejournal.com/655175.html, June 4, 2007
[ii] http://books.google.com/books?id=3L8PAAAAQAAJ&dq=hanserd%20knollys%20algerine%20captive&pg=PA113#v=onepage&q=hanserd%20knollys%20algerine%20captive&f=false
[iii] http://books.google.com/books?id=3L8PAAAAQAAJ&dq=hanserd%20knollys%20algerine%20captive&pg=PA113#v=onepage&q=hanserd%20knollys%20algerine%20captive&f=false
[iv] Lower Eatington : its manor house and church By Evelyn Philip Shirley Published by Priv. print. at the Chiswick press, 1869. p. 19-21.
[v] Sir Charles Shirley and many members of their family were Catholic and staunch loyalists to the grown as evidenced by the family motto, "Loyal je Suis" or "I am Loyal." Sir Robert Shirley was ultimately sent to the Tower of London by Cromwell for plotting a restoration of the monarchy. He died there in 1656 allegedly under instructions from Cromwell.
[vi] http://www.handpickedhotels.co.uk/hotels/ettington-park-hotel/History/, Accessed April 17, 2011
[vii] Lower Eatington : its manor house and church By Evelyn Philip Shirley Published by Priv. print. at the Chiswick press, 1869. p. 12-13.
[viii] Memorials of old Warwickshire, p. 61.