David Harris Underhill was a lineal descendant of Captain John Underhill and organized the Underhill Society of America, a lineage organization dedicated to perpetuating the memory of Captain John Underhill and his descendants. He was a genealogist and served as Secretary for the Society. Underhill was a librarian at the Astor Library and later the New York Public Library. He was also an active editor and compiler, helping with the publication or re-publication of several books including the republication of Newes from America (1638) and editing the Standard Dictionary.
Ancestry
Captain John Underhill and Elizabeth Feake
Nathaniel Underhill and Mary Ferris
Abraham Underhill and Hannah Cromwell
Jacob Underhill and Amy Hallock
James Underhill and Phebe Cock
Charles Rees Underhill and Elizabeth C Quinby
Aaron T. Underhill and Lucinda Cobb Harris
5th Great Grandson of Captain John Underhill
BiographyEdit
Underhill was born June 5, 1850, in New York City, the son of Aaron Townsend Underhill (1823-1908) and Lucinda Cobb Harris (1830-1913). His professional career was spent as librarian, supervising collections in St. John's Methodist Episcopal Church in Williamsburgh and the New York Public Library's Newspaper Room from which he retired in 1928 after more than 25 years of service.[2] He was editor of the Standard Dictionary.[3]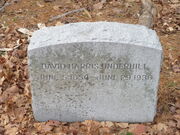 He married Caroline Fidelia Green of South Starksboro, Vermont, on July 29, 1873, in Chappaqua, New York. They had two children: Stephen Greene and Lucinda Harris.[3] He lived at 247 Winthrop Street in Brooklyn. After his wife's death in 1934, he moved to live with his daughter permanently in Vermont.[4] Following his death on June 29, 1936, he was buried at the Underhill Burying Ground in Lattingtown, New York.[3]
A sizable collection of material on Underhill history and genealogy was accumulated and maintained in the his home guntil his death in 1936. The collection subsequently spent 45 years in storage. In 1981 space was leased by the Underhill Society of America along with the Townsend Society of America on East Main Street in Oyster Bay. They continued to operate from this location through the 1990's, when the Underhill Society and Townsend Society sought separate offices for their collections. The Underhill Society of America presently has offices and their archives in the basement of the Matinecock Masonic Lodge on West Main Street in Oyster Bay, New York, where many materials from the original David Harris Underhill collection are available to review.[4]
The David Harris Underhill Papers measuring two linear feet are in the collection of the Underhill Society of America. They contain important material pertaining to his role organizing the Underhill Society of America, and his activities on behalf of the organization for several decades to follow.[4]